---
The SHUKLA Lag Screw is a universally compatible extraction system for femoral lag screws. It contains a universal set of drivers that engage with exterior lag screw geometry. Interchangeable inner shafts engage with any thread dimension. Driver and shaft assemblies connect efficiently using a quick-connect T-Handle.
This system is intended for use in conjunction with our other intramedullary nail solutions from Shukla Medical. For the complete IM Nail extraction solution, use this system in conjunction with SHUKLA Nail (S9NAIL) and SHUKLA Broken IM Nail (S9NAIL-BR).
---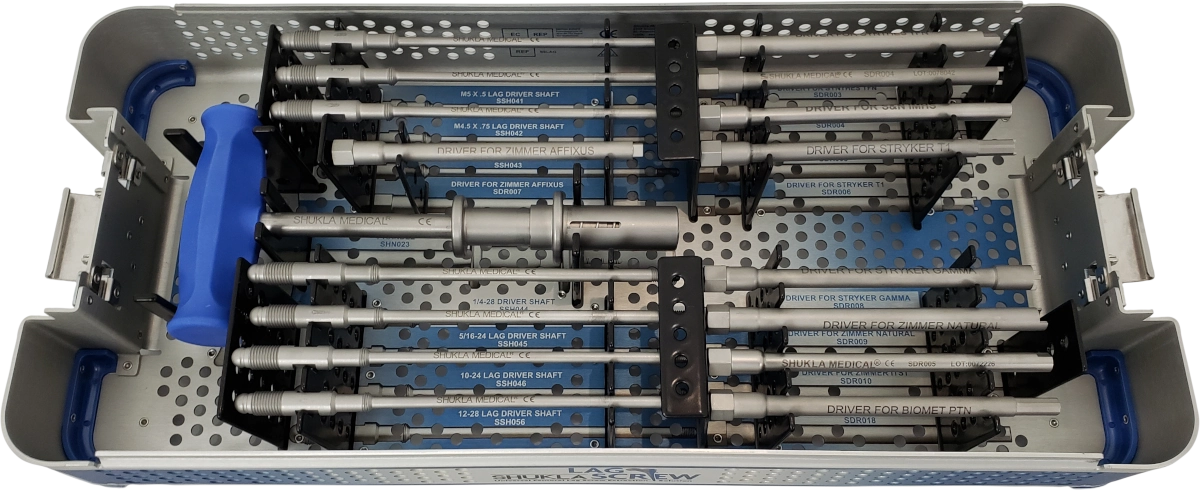 ---
Ability to remove a wide range of femoral head lag screws, from a number of prominent manufacturers.
Nine different types of Lag Drivers engineered for compatibility with a wide range of commonly encountered, complicated Lag Screws.
Seven different types of Threaded Inner Shafts available to lock the Lag Driver to the lag screw.
Quick-Connect Extractor T-Handle rotates the outer shaft in order to quickly remove the lag screw.
Compatible with the Strike Plate Frame from the SHUKLA Nail (S9NAIL) IM Nail Extraction system for certain lag screws that need to be taken straight out instead of rotated out.
---
Product Guide: SHUKLA Lag (S9LAG)
Surgical Technique Guide: SHUKLA Lag (S9LAG)
Reorder Form: SHUKLA Lag (S9LAG) - Updated Form Comming Soon!
Shukla Medical Limited Warranty
Cleaning and Sterilization: Instructions